When Jason goes out of town for two weeks at a time I get bored...
...And not having anyone to talk to at night, I look for things to do.
We have three bathrooms:
His, mine, and ours.
But after two weeks of Jason being gone things have changed.
Our bathrooms are now mine, ours, and Emily's.
Because what nearly 9 month old doesn't need her own bathroom?
Here are the before and after pictures:
And now it looks like this:
(forgive the lighting)
The canvas picture of Emily is probably my favorite thing ever.
Dear Jason, pink is the new masculine.
(I laugh every time I remember saying that Emily would not 'do pink')
And just for something new, I'm linking up with my friend
Kristin who features DIY projects every Sunday.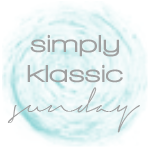 If you tell me that Elimy is spoiled, I'll probably agree.
Three open heart surgeries = entitled to a little bit of spoiling.